The pinnacle of any Nation is the creation of a monument so great, so magnificent and awe-inspiring that it can truly be considered a Wonder of the world.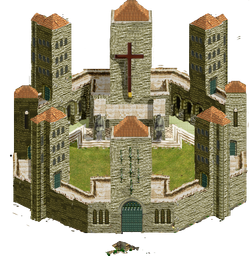 In Rise of Nations, these monuments are no less amazing than their real-life counterparts. As you can see from the bonuses listed below, wonders provide your Nation with a great many bonuses and are well worth the investment. You will also notice that each wonder has an associated point value. This value is used for scoring when attempting to achieve a Wonder victory - in certain games, you will win as long as you or your coallition maintain a wonder point lead over other factions for a certain period of time.
There are eighteen wonders in Age of Darkness. Only one of each wonder may be built by all players. In other words, the first player to successfully build the Temple of Tikal will be the only player in the game with that wonder. This limitation when combined with being able to set the number of Wonder points needed for victory makes for some interesting strategy and gameplay. Some of the powers of wonders are so powerful as to rival even the national bonuses of other factions.
The seventeen wonders are divided into several classes:
Restricted wonders:
Cathedral (2 versions)
Aya Sofiya
Tower of London
Forbidden City
Dome of the Rock
Taj Mahal
Alcazar de Toledo
Pyramids
Parthenon
Name

Abilities

Resource cost and wonder point contribution

Requirements

Special remarks

Heysel Pavillion

Decryption Station

Reveals the entire map
Cost of strategic weapons is decreased
Immunity from nuclear embargo
Name

Abilities

Resource cost and wonder point contribution

Requirements

Special remarks

Socialist

Memorial Hall

Should be either Zhongshan tomb, Lenin Mausoleum or possibly Ataturk Mausoleum. Whee.

Authoritarian

Palazzo EUR

National borders increased by 3
Attrition to enemy units increased by 50%
Fortifications are 20% cheaper

Lubyanka

Democratic

Eiffel Tower

Conservative

Marble Arch

You create Ships 50% faster.
Increases your income from Rare resources (in your territory) and Markets by 200%
You receive the bonus ability of all Rare resources in your territory , even if you don't have a Merchant there.

The European version is based off the Arco dei Fileni of Libya.
For jungle factions, the Jaswant Thada is constructed instead. This is an elongated and exaggerated version of the original.

C

risto Rendentor
High-tier
Edit
Name

Abilities

Resource cost and wonder point contribution

Requirements

Special remarks

Liberal

Crystal 
Palace

Research 
Institute

Capitalist

Wall 
Street

The cost to buy goods at Market is never higher than 125; the price to sell is never lower than 50.
All Technologies and Upgrades can be researched instantaneously.

Pentagon

Your Supply Wagons can heal your troops (and Brazilian Supply Wagons heal at double the normal rate).
Siege, Artillery, and Supply units move 25% faster.
Extensive LOS and can detect hidden units

Spawns 1 Pershing-class Heavy Tank once constructed

Fascist

Tannenberg 
Memorial

Free foot unit every 30 seconds (Plus 1/2 second for every Infantry unit the player controls)

The frequency of spawning decreases along with the number of Rifle Infantry you currently control.

National 
Redoubt 
Complex

Massive Fortification with long range, many Hit Points, extra garrison value, and increased border push.
Can be built wherever a Castle can; does not count against a City's Wonder Limit (1 wonder per city).
While under construction, will not revealed to the enemy until it is complete.
Receive Fortification upgrades for free and all Castles, Fortresses and Citadels gain 33% more hitpoints.
Units garrisoned at any Fort Heal at +500% the normal rate.

Spawns Assault guns:

For USA and Britain, Sherman Firefly
For Japan,
For Italy,
For Russia,
For Germany, 2 Elefant
For all other nations: Marder I

Grants access to Kamikaze Doctrine for Japan

Volkshalle

Functions like a Major City
Can be built wherever a Castle can; does not count against a City's Wonder Limit (1 wonder per city).
While under construction, will not revealed to the enemy until it is complete.
Capital timers don't affect you, you cannot be defeated by way of capital elimination unless this Wonder is taken from you.

Spawns 4 King Tigers when complete.

Communist

People's 
Steelworks

Spawns 10 Peasant Guerillas upon completion

Pantheon 
of 
Soviets