Regions by Geography
Edit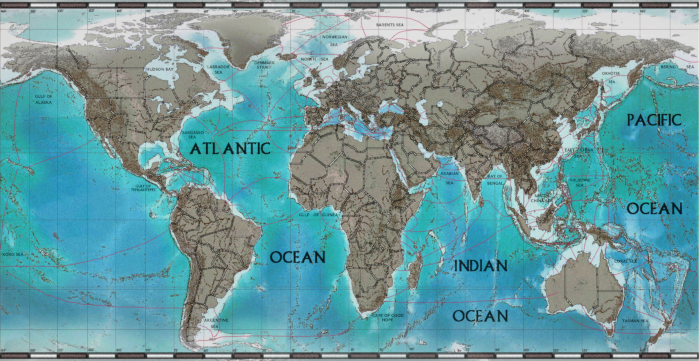 Hint: Mouse over the map to access the atlas entry for each relevant region.
In Age of Darkness, the world is split into sixteen regions, being:—
North America
Central America and Caribbean
Latin America
Northern Europe

Eastern Europe
Western Europe
Mediterranean
Middle East

Northern Africa
Equatorial Africa
Southern Africa
Central Asia

Eurasia
China
Indomalaya
Pacific
Oil is crucial for the supply and operation of armies in the field in all Age of Darkness campaigns. In general, the most valuable areas tend to be North America, the Middle East, Central America and the Caribbean as well as Central Asia by virtue of their control of supply centres which represent oilfields.
Strategic resources (and where to find them)
Edit
Strategic
resource
Value
Locations
Strategic
resource
Value
Locations
14
Aleksandrovsk; Longyear; Nuuk;
33
Lima; Mexico; Santiago de Chile
100
Mafikeng; Novossibirsk; Yakutsk
100
Freetown; Luanda; Maputo
50

Ashgabat; Asturias; Brussels; Changchun & Xinjing; Manchester; Santiago de Bogotá; Toyohara; Warsaw

33
Bombay; Khartoum; St Louis
25
Karachi; Quito; Sverdlovsk; Valencia
100
66
Jammu and Kashmir; Lhasa; Tombouctou
50
Honolulu; Betawi; Sapporo; Rekjavik; Kurils; Napoli
66
66
Adelaide; Lulea; Pyongyang; Strasbourg
25
Don Basin; Wuhan
25
100
100
Erzurum; Helsinki
50
Cayenne; Madras;
50
Berne; Cordoba; Houston
Some notes:
Titanium has been renamed to Chromium.
Compared to the territories of Rise of the Moderns' Grand Campaign, some areas have different resources.
With the exception of this list, all other resources are eliminated, they are then replaced with different bonus cards where needed.
Regions and distribution of oil, transport facilities and capitals
Edit
In Age of Darkness, supply is determined by the presence of significant oil reserves, with most of it confined to some coastal areas of the New World, as well as the Pacific and the Middle East and Eastern Europe. This means that there is often a massive scramble by factions to occupy others for armies or to conquer key ports and cities in order to gain control of transport requisition cards to transfer armies.
Northern Europe
Western Europe
Stockholm
Manchester

Paris
Strasbourg
London
Dublin
Berne
Caen
Helsinki
Oslo
Madrid
[[file:|19px]]
Ponte Delgada
Copenhagen
Lisboa
Sevilla
North America
Den Haag
Barcelona
Washington DC
Montreal
Milan
Santander
Minneapolis
Miami
Bruxelles
Hamburg
Ottawa
Winnipeg
Central Europe
Nuuk
Vancouver
Berlin-Brandenburg
Lwow
New York
Los Angeles
Bucuresti
Kharkov
Houston
Albuquerque
Warszawa
[[file:|19px]]
Wien
Pacific
Moscow
Sebastopol
Canberra
Jesselton
Sofia
Riga
Tokyo
Pontianak
Budapest
[[file:|19px]]
Betawi
Palembang
Mediterranean
Sydney
Nagasaki
Roma
Ajjacio
Manila
Guam
Malta
Patras
Indomalaya
Athens
Napoli
New Delhi

Ahmedabad

Tirana
Cagliari
Bombay
Srinagar
Gibraltar
Malta
Colombo
Singapore
Central Asia
Rangoon
Karachi
Tehran
Tashkent
China
Kabul
Ashgabat
Nanjing
Macao
Baku
Astana
Chengdu
Shanghai
Northern Africa
Changchun and Xinjing
Kunming
Cairo
Algiers
Hong Kong
Wuhan
Equatorial Africa
Guangzhou
Senegal-Niger
Lagos
Central America and Caribbean
Mogadishu
Asmara
Havana
Caracas
Southern Africa
Bermuda
Mexico
Cape Town
Maputo
Kingston
Quito
Antananaviro
Luanda
Santiago de Bogotá
Panama
Mombasa
Dar es Salaam
Middle East
Latin America
Baghdad
Tabriz
Rio de Janeiro
Recife
Ankara
Muscat
Buenos Aires
Montevideo
Istanbul
Ha'il
Lima
Patagonia
Jerusalem
Aden
Eurasia
Basra
Shiraz
Sverdlovsk
Petropavlovsk
Busan
Aleksandrovsk
Nationalist Separatists (Indonesia): They have the "native American" look for infantry, but differ in that they use a mix of British and Japanese vehicles.
South American Insurgents (Peru): See above, but their tech tree resembles that of Greece, and also have aircraft.